How Patio Enclosures Can Benefit Your Omaha, NE, Area Home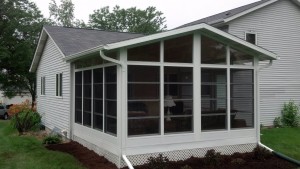 Patio enclosures are a great investment for your home if would like to better enjoy the patio area of your Omaha, Nebraska, area residence. A patio enclosure will help you and your loved ones stay comfortable and protect you from harmful UV radiation and pests like mosquitoes while you spend time in your outdoor living space. With an enclosure, you will also be able to use your patio area year-round, even when it's cold in the winter and hot in the summer.
Patio enclosures that are good candidates for your Omaha, NE, area home will have the following features:
Insulated walls that will help keep your patio comfortable regardless of the outside temperature and weather
Durable walls that can resist damage from the elements and harsh weather conditions
Size and style options that will allow you to customize your enclosure so that it matches your home's architecture
With ABC Seamless of Nebraska, your search will be easy because we provide patio enclosures with the features listed above and more. Manufactured by industry leader TEMO, our enclosures have thermal-resistant insulation that will help keep heat in your patio area during the winter and keep it out during the summer. The walls of our patio enclosures also have TEMKOR surfacing, making them virtually maintenance free and resistant to denting, fading, and scratching, as well as impact and UV damage. And, so that your enclosure blends seamlessly with your home's look, you will be able to customize your enclosure's size and choose from different styles, such as studio, cathedral, conservatory, California, and more.
To begin the process of having one of our patio enclosures installed on your residence in or around Omaha, NE, contact ABC Seamless of Nebraska today. We offer professional installation for all of our patio enclosure products.