Siding Contractor Serving Omaha, NE, Homeowners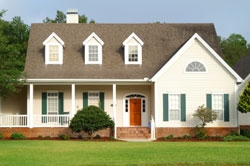 If you need a siding contractor serving the Omaha area, there is just one name that you need to remember – ABC Seamless. We are the only siding installer that offers truly seamless siding. Unlike most others, who claim their 12' and 24' siding to be seamless (which it is – but only up to those lengths), ours is custom cut to the necessary lengths to cover your home from corner to corner, with no seams – period. Not only is our siding more beautiful because it is seamless, but it will also help keep moisture and wind from intruding into your home.
As a premier siding contractor in Omaha, we offer the best seamless siding that you will find anywhere in Nebraska. Our siding offers:
28-gauge steel construction – While many siding products are made from vinyl – a material that warps, fades, or cracks – our siding is manufactured from highly durable steel that won't expand or contract and will stand the test of time.
A wide range of aesthetic options – ABC Seamless siding comes in a wide range of 27 handsome colors and 15 beautiful finishes, so your home can have the exterior appearance you've always envisioned.
Incredible reliability – As an Omaha siding contractor that stands behinds the products it installs, we protect your investment with a limited lifetime warranty that covers fading, peeling, rusting, and even hail.
Maintenance-free beauty – You'll never need to spend your weekends repairing, sealing, or painting our siding, as it is covered with a strong coating that won't chip or fade and only needs to be occasionally hosed down.
Contact ABC Seamless today for more information about our home siding for Omaha, Nebraska, residents.