Siding Contractor Serving Omaha, NE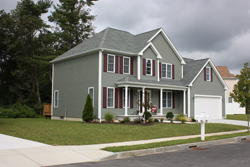 If you are looking for a trustworthy siding contractor in the Omaha, Nebraska, area, then consider choosing ABC Seamless, a company that has been serving local residents since 1989. Over our many years of service, we have installed our durable siding products on countless homes. Our quality siding is made of steel, which is stronger than any vinyl, wood, or cement fiberboard siding product on the market, and is custom cut to the precise dimensions to ensure that it will fit perfectly on your home. Because we cut our siding to the exact measurements of your home, our siding remains seamless, eliminating unsightly siding splices and better sealing out wind-driven rain and debris.
There are many other advantages to choosing us as your Omaha siding contractor. These include:
Our siding is virtually maintenance free – No more painting, sealing, and scraping when you choose ABC Seamless siding!
You'll get to choose from several aesthetic options – We offer nearly 30 colors and 15 styles, making it easy to give the exterior of your home just the right look.
We offer a lifetime warranty – We stand behind our siding with a warranty that covers fading, rusting, cracking, and even hail damage.
We are also the proud recipients of an A+ rating from the Better Business Bureau and a Top 500 ranking from Qualified Remodeler, which is a testament to our unflagging commitment to superior craftsmanship and exceptional customer service.
For more information on our products and services, contact us today. We're a custom siding contractor proudly serving Omaha and many other communities throughout Nebraska and Southwest Iowa.