Protect Your Wood River, NE, Home with Metal Roofing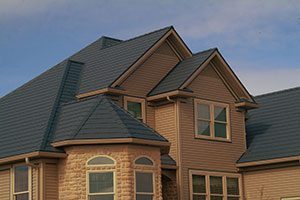 Your roof is your home's first line of defense against the elements, so it's important to choose a roof that will offer the best protection possible. While many types of roofing start out providing adequate protection, problems often crop up years down the road. For homeowners who want an option that is durable, offers the highest level of protection, and can be expected to last for several decades, there's metal roofing.
Metal Roofing Offers Unbeatable Protection
Whether you're interested in seamless steel or shake and slate roofing, ABC Seamless of Nebraska has a roofing solution to fit your home and preferences. And, regardless of your style preferences, you can enjoy the many benefits of metal roofing, including:
Protection from the Environment
Metal roofing provides fantastic protection from Mother Nature. It resists mold, mildew, and pests. Metal roofing also features the highest-possible residential ratings for both impacts and fire resistance.
Durability
As we've mentioned, our metal roofing can be expected to outlast almost any other kind of roofing available. Plus, it'll never fade, chip, or peel and continue looking as fantastic as the day it's installed.
Energy Efficiency
Our metal roofs are among the most energy efficient options for roofing available. Besides being a good insulator, metal roofing is also naturally reflective. These features mean that it can help contribute to lower energy bills.
The Metal Roofing Pros in Wood River, NE
At ABC Seamless of Nebraska, we specialize in long-lasting home protection. In fact, our metal roofing is backed by an industry-leading lifetime, non-prorated warranty to give you the ultimate peace of mind. To find out more or to schedule a consultation at your home, contact ABC Seamless of Nebraska today.