Why Low-E Windows are Optimal for Omaha, NE, Homes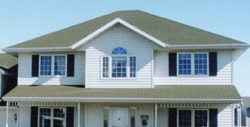 Have you heard about what Low-E windows are and the benefits they offer? Low-E windows utilize state-of-the-art technology to help improve your home's energy efficiency. Low-E is shorthand for low emissivity and refers to very thin layers of metallic particles that are applied to window panes to reflect heat out of the home in the summer and help retain heat indoors during the winter.
While Low-E layers help block heat transference through the window pane, they do not block out light. That means you can install Low-E window systems on your home to help keep the inside of your home warmer in the winter and cooler in summer without having to sacrifice natural light levels in your home. As Low-E windows can therefore help stabilize the temperature inside your Omaha home, your heating and cooling equipment won't have to work as hard to keep the interior temperature of your home comfortable, and this could actually translate to lower energy bills.
If you are interested in having Low-E windows installed at your home, then you should turn to ABC Seamless, a home improvement company that has been proudly serving residents in Omaha and the surrounding area since 1989. Over the last several decades, we've specialized in installing state-of-the-art home products throughout the region, and our energy-efficient windows are ideal for homeowners who want the latest available window technology for their homes. Our window experts will help you choose just the right windows for your home to help ensure that you have the best protection against heat transfer and will enjoy the fullest energy-efficiency benefits.
For more information about the windows we install in Omaha, NE, please contact ABC Seamless today. One of our courteous product specialists will be glad to answer any questions you may have and provide you with a complimentary quote on our Low-E windows.