The Winner Among House Siding Options for Homeowners in Lincoln, NE
While there are dozens of house siding options you could choose for you home in Lincoln, NE, homeowners who want to maximize their siding's value should turn to seamless steel siding. Different house siding options have many purported benefits, but over time these benefits will often fade. But at ABC Seamless of Nebraska, our seamless steel siding is guaranteed to stand the test of time, and we include a non-prorated, transferable warranty on all of our siding. Compared to other siding options, the peace of mind offered by ABC Seamless' products is unmatched.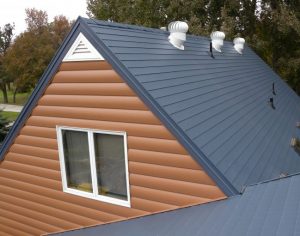 The Last House Siding Option You Need to Consider
At ABC Seamless of Nebraska, we've been helping homeowners in Lincoln, NE, wrap their homes in seamless steel for over 30 years. We are so confident in this siding's performance that it's the only material we work with. Some of its benefits include:
Unmatched durability — Our lifetime warranty guaranties that our seamless steel siding won't chip, rust, or fade, and will look as great as the day we install it for decades.
Unrivaled personalization — We never prefabricate our siding. It's made onsite when we install it at your home, to your home's exact dimensions, in order to ensure a perfect, customized fit.
Unparalleled smoothness — The fact that our siding is seamless is so crucial that we put it in our name. But for homeowners, this quality of our steel siding means that unlike other house siding options, ABC Seamless' steel siding has absolutely no gaps along the length of it. Because of this, it's almost impossible for bugs, rodents, wind, rain, or snow to get through the siding to the frame of your home.
Your Team for Seamless Steel Siding in Lincoln, NE
If you want to get the most out of new house siding for your Lincoln, NE home, turn to the team at ABC Seamless of Nebraska. To find out more about benefits of steel siding or any of the other products we offer, contact us today.