Gutter Replacement – Columbus, NE
Upgrade Your Columbus, NE, Home with Premium Steel Gutters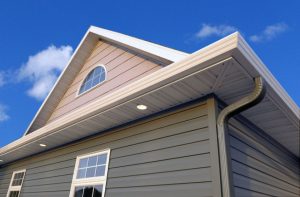 Are your gutters prone to jams and leaks, or are they even collapsing before your eyes? If this is the case, don't wait any longer to have them changed. Gutter failures can lead to water damage to your home's foundation, which is an expensive mistake we'd all prefer to avoid. ABC Seamless of Nebraska, fortunately, provides the ideal option for you: steel gutters! Our seamless steel gutters are ideal for Columbus residents wishing to replace their present gutter systems with a product that can withstand even the harshest weather.
Benefits of Our Steel Gutters
The last thing you want to worry about is having to replace your gutters due to poor quality after only a few years. Instead, choose gutters crafted from higher-quality materials, such as the steel in our premium gutters, to ensure that you will never need to replace them. The ultra-rugged construction of our long-lasting steel gutters is made of heavy-gauge galvanized steel. Our gutters, like our hallmark steel siding, have no seams, eliminating the possibility of leaks and debris being trapped and causing clogs.
Trust ABC Seamless of Nebraska
Our premium steel gutter systems are custom made on-site to guarantee that they exactly fit your home's measurements. Your new gutters can also be personalized with a variety of colors to match your home. Do you want to avoid cleaning your gutters as well? We can install ABC Gutter Protection gutter guards to keep undesired debris out and avoid clogs in the first place.
Contact Us Today
Look no further than ABC Seamless of Nebraska if you're ready to replace your outdated gutters with top-of-the-line steel gutters. We're the most trusted home renovator in the neighborhood, and we can't wait to handle all of your gutter replacement needs, big or small! To learn more about our services in Columbus, NE, and the surrounding areas, contact us now.