Seamless Steel Gutter Installation Services in Lincoln, NE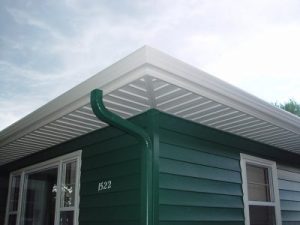 Most homeowners realize the importance of gutters in preventing water damage. However, it can be easy to forget about your gutter system, as it is a pretty nondescript feature of your home. If you've been neglecting your gutters and damage has occurred—or if your system is just outdated and ready to be replaced—turn to ABC Seamless of Nebraska for gutter installation. We've been in business for decades and are proud to help Lincoln, Nebraska, homeowners enhance their properties. Thanks to our continued commitment to excellence, we proudly hold an A+ rating with the Better Business Bureau and have been named a top contractor by Qualified Remodeler 15 years in a row.
Custom-Cut Seamless Gutters
Many gutter installation companies claim that they install seamless gutters, but really only offer seamless products up to a certain length. At ABC Seamless of Nebraska, we do things differently. Our gutters are crafted from 28-gauge steel that is cut onsite to ensure a flawless fit and a 100% seamless system. Once the material has been cut, your gutters will be shaped, molded, and formed into a custom product built just for your home. Then, our experienced gutter installation technicians will put your new gutters into place, making sure that they discreetly blend in with your home's soffit and fascia. Thanks to their seamless design, your new gutters will never leak, clog, or overflow, and their durable steel makeup will help them stand strong even when weighted down by heavy ice and snow.
Update Your Gutter System
To learn more about our highly durable, low maintenance seamless gutters and professional gutter installation services, contact ABC Seamless of Nebraska. We would be happy to answer your questions and schedule a free consultation at your home in Lincoln, NE. We would also love to tell you about our in-house financing, which makes it easy to get a great plan without having to deal with a bank. Reach out today to get started.