Introducing Gutter Hero, Lincoln, NE's Most Advanced Gutter System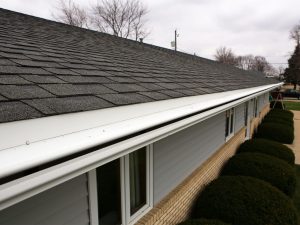 Your gutters have a tremendous amount of responsibility on their shoulders. Working in tandem with your roof, they prevent water damage by directing rainwater and snowmelt away from the base of your house. However, if gutters are not properly maintained and kept clear of debris, this system will fail, potentially resulting in costly repairs to your home. If you want to maintain properly functioning gutters—without the need to spend hours on a ladder clearing them of wet muck—then you need Gutter Hero from ABC Seamless of Nebraska.
Benefits of Gutter Hero
At ABC Seamless of Nebraska, we provide the most effective gutter covers available—Gutter Hero. This system features a patented design that prevents debris such as leaves, twigs, and asphalt granules from entering the gutters, allowing water to flow through. Our gutter covers provide many benefits such as:
Unmatched durability – Our gutter covers utilize a rigid aluminum frame that can stand up to the toughest weather and last for years.
Unbeatable performance – Thanks to the unique cover shape, our gutters can keep out even the smallest debris during the heaviest rainfalls.
A sleek look – ABC Gutter Protection fits snugly to the gutter system, providing a low-profile look that won't detract from your home's curb appeal.
In addition to its unparalleled performance, Gutter Hero operates flawlessly with our signature seamless steel gutters to create the best performing gutter system available!
Contact us Today
If you're ready say goodbye to Saturday afternoons spent cleaning your gutters, then you need Gutter Hero from ABC Seamless of Nebraska. As the area's leading home improvement company, we have the knowledge and expertise to outfit your home with premium products that last a lifetime. Our commitment to customer satisfaction has earned us A+ Ratings with the Better Business Bureau, plus we back our gutter installations with a 25-year warranty to give you peace of mind that your investment is protected. Contact us today to learn more about our services in Lincoln, NE, and surrounding areas.