How Gutter Hero Gutter Guards Can Help You Stay Off Your Ladder in Kearney, NE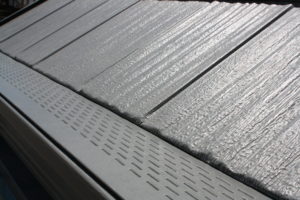 Cleaning gutters is a dreaded chore for many homeowners in the Kearney, Nebraska, area, but it's not just a nuisance. It's also dangerous, with falls from ladders accounting for many emergency room visits and even deaths nationwide. Yet, you need to keep your gutters clear of clogs so that rainwater from the roof is safely diverted away from your home. You need a hero to save you from all that work and the possibility of injury—specifically, you need Gutter Hero. And ABC Seamless of Nebraska is ready to install this high-performance brand of gutter guards at your Kearney home.
Why Gutter Hero Is Your Best Option
The Gutter Hero gutter protection system features a patented design that has proven effective in keeping leaves, twigs, and even tiny debris like shingle grit from washing into your gutter system whenever it rains. Moreover, this brand of gutter guards is built to stand up to the brutal winter weather in the Kearney area. Gutter Hero resists cracking and corrosion, and it's mounted with the industry's strongest bracket system, which means it can stand firm under the heaviest snowfalls. It's also engineered with a unique two-piece bracket system that allows the gutter cover to flex independently of the gutter, thus eliminating the tension that can lead to buckling.
The gutter protection experts at ABC Seamless of Nebraska can install this revolutionary gutter cover system on your existing gutters if they're in good condition. Or we can outfit your home with our ultra-sturdy, seamless steel gutters and add Gutter Hero if you want a new gutter system that will offer decades of rainwater control.
Why ABC Seamless of Nebraska Is Your Best Partner
The ABC Seamless name has become synonymous with home upgrades that are built to last in places where wintry weather can be punishing to a home's exterior. Our Gutter Hero gutter covers are no exception. Homeowners also know they can rely on us for expert installation and attentive customer service. These are all reasons why we maintain a solid A+ rating from the Better Business Bureau.
Contact ABC Seamless of Nebraska today for more information about the Gutter Hero gutter protection system available for your home in the Kearney area.