Protect Your Gutters in Hastings, NE, With the Remarkable Gutter Hero System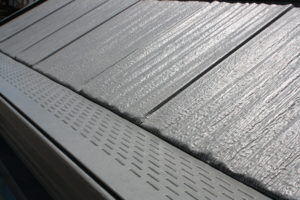 When inclement weather comes calling in Hastings, Nebraska, you likely think of your roofing and siding as the top defenders of your home. Indeed, these exterior features are on the front lines when it comes to battling the elements. Your gutters are less likely to draw notice—until they become clogged and allow rainwater or snowmelt to saturate your soffit and fascia, which can lead to wood rot. You can spend many hours each year clearing your gutters to keep this from happening. Or you can simply turn to ABC Seamless of Nebraska for professional installation of the revolutionary Gutter Hero gutter protection system.
What Sets Gutter Hero Apart From Other Gutter Guard Systems?
Like the many other exterior upgrades available from ABC Seamless, Gutter Hero is designed to protect homes in places like Hastings, where brutally cold temperatures, abundant snowfall, and strong winds can inflict significant damage. Gutter Hero gutter covers are built with tough, anti-corrosive materials and the industry's strongest mounting brackets so they'll resist cracking during extreme temperatures and bear the weight of heavy snow that piles up on your roof's edge.
But what good is a weather-resistant gutter protection system if it doesn't prevent clogs? If you have Gutter Hero installed, you'll never have to find out. Gutter Hero gutter guards have proven effective at blocking leaves, twigs, and even shingle grit from entering gutters while also allowing rainwater to be safely diverted, no matter how heavy the rainfall.
If your gutters are in good shape, the experts from ABC Seamless of Nebraska can install Gutter Hero over them, which will not only prevent clogs but also fortify your gutters against weather damage. Of course, if you need new gutters, we can install our industry-leading seamless steel gutter system and top it off with Gutter Hero.
Ready to Learn More?
We'll be happy to schedule a free consultation at your home in the Hastings area to further discuss the merits of Gutter Hero. Contact us today to make the arrangements.