Say Goodbye to Clogged Gutters on Your Grand Island, NE, Home Thanks To Gutter Hero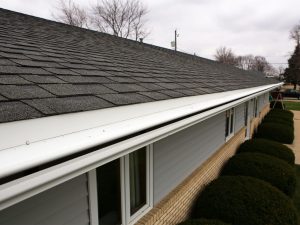 Your home needs gutter systems to be protected from severe rain. Together with your roof, these systems move rain and snowmelt away from your home. But if gutters are not kept clear and well maintained, they could malfunction and lead to expensive water damage. Gutter Hero is the solution if you want gutters that are always ready for any weather and don't require cleaning. We at ABC Seamless of Nebraska are pleased to provide this revolutionary gutter cover technology to locals in Grand Island, Nebraska, and the surrounding areas.
What Makes Gutter Hero So Effective?
Gutter Hero is the most effective gutter system available. It's patented design guides heavy rainfall into the trough while debris like leaves, twigs, and asphalt granules flow over the sides, keeping your gutters clog-free. Our gutter shields provide many benefits such as:
Unmatched durability – Gutter Hero utilizes a rigid frame with anti-corrosive finish and the country's strongest bracket system which can stand up to the toughest weather and last for years without faltering.
Unbeatable performance – This system is incredibly strong and can handle the heaviest rain and snow falls. The unique two-piece bracket system allows the panel to flex independently of the gutter, eliminating tension and buckling.
A sleek look – Gutter Hero fits right on to your existing gutter system, providing a low-profile appearance that looks great from any angle.
In addition to their unparalleled performance, Gutter Hero operates perfectly with our signature seamless steel gutters to create the best performing gutter system available!
Upgrade Your Home Today
If you're sick of cleaning your gutters, ABC Seamless of Nebraska's Gutter Hero is what you need. With our knowledge and experience, we can furnish your home with this high-quality, long-lasting system in no time at all. We're the area's most trusted gutter company and have A+ ratings with the Better Business Bureau. We also provide a 25-year warranty on gutter systems to ensure the security of your investment. Call us right away to learn more about our offerings and what Gutter Hero can do for your Grand Island, NE, home.