The Best Exterior Siding for Your Kearney, NE, Home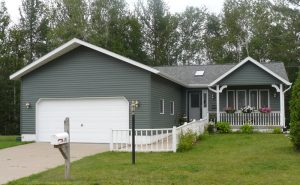 Siding replacement can improve the value and curb appeal of your property while also saving you time and effort on maintenance. It's also a straightforward process if you choose a top-tier contractor like ABC Seamless of Nebraska! Our superb, seamless 28-gauge steel siding is has proven itself as the best siding material Kearney, Nebraska, homeowners can choose. With our team of experts installing exterior siding on your home, it will experience better protection and improved appearance without the need to repaint, reseal, or make repairs. We'd love to demonstrate why homeowners in Nebraska have trusted us for all of their house siding needs for so many years.
Exterior Siding Installation
Why choose seamless steel siding instead of traditional siding materials like vinyl? Our top-quality exterior siding comes with many exclusive benefits, including:
Improved energy efficiency thanks to high-caliber insulation and steel to take the strain off of your HVAC system by reducing air infiltration
Low maintenance requirements so you can relax and enjoy your home for years to come without wasting time painting or repairing your siding
Remarkable durability with protection supplied by expertly secured screws so your siding won't budge, even under the harshest outdoor conditions
Customizable aesthetic options that allow you to select colors and styles so that you can create the exterior appearance you desire
Lifetime warranty protection to give you the peace of mind you need
Furthermore, you can rest assured that your outside siding project is in good hands, as we are certified as one of the Top 500 remodeling companies in the USA.
Upgrade Your Home Today
Contact ABC Seamless of Nebraska today if you're ready to have the greatest exterior siding in the business installed by true specialists. Our staff is here to answer any questions you may have about the finished result in your Kearney, NE, home.