Steel Exterior Siding from ABC Seamless of Nebraska – The Ideal Choice for Your Home in Bellevue, NE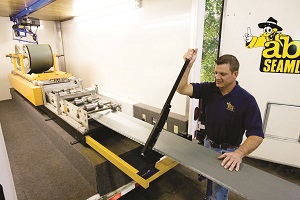 As you decide what type of exterior siding you want for your home in Bellevue, Nebraska, ask yourself a simple question: Would you prefer to have steel or plastic protecting your home? Set in those terms, your choice between steel siding from ABC Seamless of Nebraska and the type of run-of-the-mill vinyl siding you'd receive from so many other remodeling companies should be an easy one to make. If you're like most people, your home is one of your most significant financial investments, and your exterior siding is one of the most visible aspects of your home. Therefore, support your investment in your Bellevue, NE, home with steel cladding that will beautify it and protect it against moisture, air, and insects for a lifetime.
No other exterior siding boasts the same remarkable strength of stainless steel siding from ABC Seamless. Made of durable 28-guage steel coated with a 5-mil PVC coating, the siding won't expand and contract with temperature fluctuations nearly as much as vinyl siding. Since we will craft our steel siding at the job-site, cutting off each piece custom for your residence, we will install siding that truly has no seams. Because it lacks the gaps you'd see in other types of cladding, our steel siding keeps out weather elements and bugs far better than any other exterior siding option, eliminating the need for many time-consuming and costly home repairs.
To learn more about what makes stainless steel exterior siding from ABC Seamless such an excellent investment in your Bellevue, NE, home, contact us today. When you do, ask about the in-house financing options we offer – including our no-interest financing plans – that can help make your dream exterior home renovation a reality.