The Best Siding for Your House in Lincoln, Nebraska
Deciphering the bewildering amount of options often leaves many homeowners unsure of what the best siding for their house is. There are many important points to consider before you make your choice. Are you concerned that the siding you choose won't last very long? Do you fear that your siding will require difficult maintenance or lose its luster quickly? Does your sidings' safety rating and environmental impact matter to you? Perhaps the best siding for your house in Lincoln is the seamless solution – steel siding from ABC Seamless of Nebraska.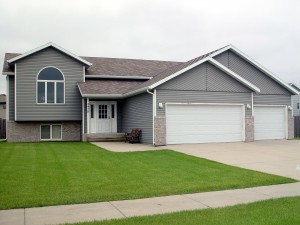 Steel Beats All the Others
Many of the inherent drawbacks of traditional siding materials can be overcome by choosing steel. Consider the following:
The environment can deform siding – Solid and dependable, steel siding from ABC Seamless won't warp in high heat and it won't crack or shrink in the cold. With careful installation, steel siding can even withstand driving hail and high winds that would decimate other materials. It is also extremely resistant to fire, even when in direct contact with flames.
Siding is difficult to clean and must be repainted – While other materials require specialist solvents and caustic concoctions to clean, steel siding can be washed with simple soap and water. The cutting-edge finishes on ABC Seamless siding allow it to hold its color and resist rusting, cracking, and peeling for years.
Mass produced siding products are one-size-fits-all – The installation teams at ABC Seamless of Nebraska measure, cut, and fabricate your custom siding at your home when it's installed. The best siding for your house is the one that is tailor-made for it.
Any siding is ultimately disposable – Unlike other types of siding, steel siding can last a lifetime – which is exactly why we back all of our siding up with a limited lifetime warranty. Additionally, if you ever were to decide to replace your steel siding, it doesn't have to end up in a landfill; steel siding is completely recyclable.
An Investment That Will Last
If you are considering putting the best siding on your house, contact the team at ABC Seamless of Nebraska. We've been working with homeowners in Lincoln for decades and would love take you on a tour of one of our showrooms or schedule a free consultation today.