How Often Should Gutters Be Replaced?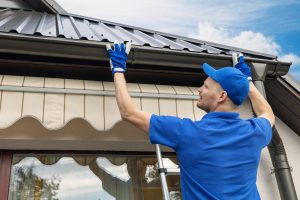 When a beautiful sunny day suddenly turns cloudy and you feel a storm rolling in, the very last thing you want to be worried about is the condition of your gutters. After all, gutters are one of the most important functional features of your home. It is their responsibility to collect and direct falling precipitation away from your home's foundation. However, if gutters are not properly maintained, you could be looking at very expensive water damage repairs. That's why preventing gutter clogs and leaks is important, but what if your gutters are beginning to show their age, be it due to rust, missing pieces, or even damage from storms? Do you know the last time your gutters were replaced? How often should gutter replacement be considered? At ABC Seamless of Nebraska, we believe the answer to that question is once and only once.
When To Replace Your Gutters
Traditional gutters are often constructed from lightweight aluminum or even vinyl. While these are low-cost options for providing basic gutter functionality on your home, the truth is that these materials are susceptible to denting, sagging, cracking, and generally shorter lifespans. Even proper gutter installation will likely only last 20 years before needing replacement if inferior materials are used. However, at ABC Seamless of Nebraska, we believe your gutters only need to be replaced one time – and that's because with rugged seamless steel gutters, you'll never need to worry about maintenance or repair ever again.
The Benefits of Steel Gutters
Seamless steel gutters are the rugged and reliable solution for homeowners looking to ditch annual maintenance of their cut-rate gutter systems. Unlike thin aluminum and inexpensive vinyl that will succumb to the forces of Mother Nature, our heavy-gauge steel gutters are built to stand the test of time no matter how bad the weather gets. Instead of replacing your current gutters with identical ones that are bound to fail again, consider opting for seamless steel gutter replacement, which offers many more benefits such as:
Seamless Construction
One of the main reasons traditional gutters "spring a leak" is because multiple troughs must be overlapped to match the dimensions of a home. This results in seams that are prone to sagging and even leaking over time. Our steel gutters are rolled and cut on-site to fit the exact dimensions of your home without the need for seams!
Higher Water Capacity
Thanks to their larger size and the unbeatable strength of 28-gauge galvanized steel, our gutters can handle up to 23% more water than conventional gutters, reducing the risk that your gutters will overflow during heavy storms.
Superior Aesthetics
At ABC Seamless of Nebraska, we offer the best-looking gutters available. Not only do our gutters lack seams, but we also utilize hidden gutter hangers to provide a sleeker finish. Plus, with a broad range of colors to choose from, you can find the perfect gutters to match your home!
Replace Your Gutters Once, and ONLY Once!
If your gutters are failing to keep your home safe and dry year-round, it's time to call the professionals at ABC Seamless of Nebraska. We're the exterior home improvement experts that have been wowing Nebraska homeowners with our superior products and unmatched installation services since 1971. We can't wait to upgrade your home with our seamless steel gutters that will ensure you never need to repair or replace your gutters ever again. Contact us today to learn more about our services!