How Upgrading the Windows on Your Omaha, NE, Home Can Improve its Energy Efficiency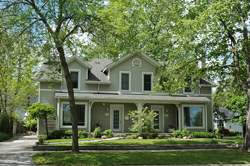 Have your energy bills been increasing without explanation? If so, you may need new windows for your Omaha, Nebraska, home. Windows are a common problem area when it comes to heat loss during the winter and heat gain throughout the summer. If your windows are more than a few years old, are single pane, or have frames made of aluminum or wood, then you may be wasting a significant amount of money every year on your heating and cooling bills.
Thankfully, technological advances in the window industry have led to the development of highly energy efficient windows that can help to keep the inside of your Omaha home cooler in the summer, warmer in the winter, and more comfortable all year long. These new windows are made with specially engineered polymer composite frames, which are four times stronger than conventional vinyl, resist expansion and contraction with seasonal temperature changes to remain airtight, and will last for decades. Energy efficient windows can not only help to keep the inside of your home more comfortable, but they can also lessen the demands you put on your expensive heating and cooling equipment, potentially helping to extend the life of your HVAC system.
If you would like to learn more about the many benefits you will enjoy upon having energy efficient windows installed on your home, then contact ABC Seamless today. We have been installing windows throughout the Greater Omaha, NE, area since 1989. We have maintained an A+ rating from the Better Business Bureau as well as a ranking among the Top 500 home improvement companies in the United States by Qualified Remodeler magazine. Let us tell you about the high-performance windows we install and provide you with a free quote.