Window Installation Options for Omaha, NE, Homeowners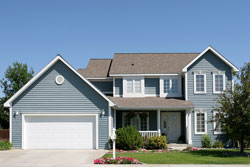 When it comes to window installation, it seems homeowners in Omaha, Nebraska, have more options than ever before. From various types of energy-efficient windows to the multitude of window styles available, there are many choices to make when it comes to the matter of window installation. But where do you start? Which types of windows should you choose? These are decisions that can be easily made once you figure out what your expectations for new windows are.
Perhaps the first thing you should determine is whether you want to have energy-efficient windows installed. If the answer is yes, then the next step is choosing the type of energy-efficient window you want. The most advanced types of energy-efficient windows are typically installed by the better window installation companies and have multiple panes filled with insulating gas (such as argon or krypton) and Low-E coatings. Low-E simply means "low emissivity," which refers to a type of window film that that reduces solar heat gain and radiant heat loss and keeps the inside temperature of your home more comfortable throughout the year. Among the many types of energy-efficient windows, you will also find a wide range of window styles that can complement the look of your Omaha, NE, home. Just some of the various window styles include bay, bow, double hung, and others. If you're unsure what window can best suit your home, a meeting with a design consultant may be useful.
Of course, there's also the matter of choosing a window installation company. But that choice is very simple for many Omaha homeowners because they can turn to ABC Seamless of Nebraska, a home improvement company that's been proudly serving local residents since 1989. We are well known for installing high-performance, energy-efficient windows, each of which comes with a 50-year, transferable warranty.
To learn more about the many benefits of choosing ABC Seamless for window installation, contact us today. We'll happily provide you with a free quote on new windows for your Omaha, NE, home.