Your Source for Window Installation in Papillion, NE – ABC Seamless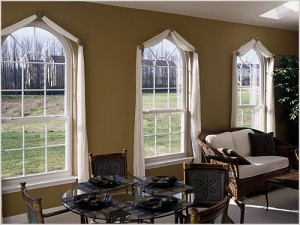 Whether you're researching window installation services out of necessity – for instance, if you have broken glass on a window on your home in Papillion, Nebraska – or you simply want to upgrade your windows to make your home more attractive, energy efficient, and secure, look to ABC Seamless of Nebraska. Since 1989, area homeowners have entrusted us with their most important home improvement projects, such as installing beautiful, energy-efficient windows that will stand the test of time.
At your free in-home consultation, we'll gladly discuss your specific needs so we can recommend the ideal windows for your home. This will include helping you select windows with the style, frame color, and grid pattern that suit your taste. Some other benefits of our window installation services include:
Energy-efficient windows – Energy-saving features such as double- and triple-paned glass, warm-edge spacers, and inert gas fills will help keep heat in your home during the winter and out during the summer, so you can save money on your energy bills throughout the year.
Professional installations – While many other window installation companies simply subcontract their work, our very own in-house team will install your new windows, demonstrating the craftsmanship that makes us one of the most trusted window specialists in Papillion, NE.
Strong warranties – You'll enjoy tremendous peace of mind knowing that strong warranties cover both your windows and their installation, protecting your investment.
To talk with one of our representatives about your window installation needs, contact ABC Seamless of Nebraska today. We'll schedule a free consultation at your home in Papillion, NE, at your convenience.