Energy Efficient Window Installation for Your Omaha, NE, Home Can Help You Save Money on Energy Bills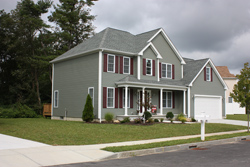 When you are looking for a window installation company in Omaha, Nebraska, do you know what to look for if you want truly energy efficient windows that can potentially lower your energy bills? There have been many technological advances in recent years concerning energy efficient windows, and homeowners who want to upgrade their windows have some promising options for saving money on their heating and cooling bills. The best energy efficient windows now available can significantly reduce heat transfer and eliminate air infiltration, which could translate to impressive heating and cooling bill savings.
At ABC Seamless, we offer window installation services for those who want to upgrade their homes with energy efficient windows. We understand that you want to beat back rising utility costs, and our energy efficient windows can potentially help you do just that. The windows we install are made with specially engineered polymer composite frames that are more energy efficient than wood and aluminum and four times stronger than standard vinyl. Plus, our windows are made with multiple panes of insulated glass, which will help prevent heat transfer and air infiltration through the window, helping to keep the inside of your home at a more stable and comfortable temperature year-round.
Our window installation team is highly skilled and will make sure that your new windows are properly installed to help maximize their energy efficiency benefits, and to help enhance the curb appeal of your home. Our longstanding commitment to providing exceptional window installation services and offering a customer experience that is truly second to none has helped us to earn an A+ rating from the Better Business Bureau and a Top 500 rating from the Qualified Remodeler magazine.
Contact ABC Seamless today for more information about our window installation services for homeowners in the Greater Omaha, NE, area.