Sunrooms for Homes in Wood River, NE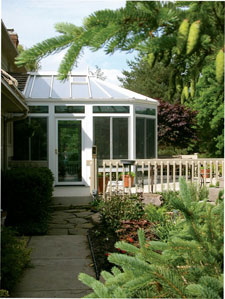 Sunrooms from ABC Seamless give homeowners a way to enjoy the beautiful outdoors without leaving the comfort of their homes. Just imagine enjoying the outdoors every day in perfect weather conditions and ideal temperatures—even in the dead of winter. For more than 15 years, we have turned this idea into a reality for countless homeowners in Wood River and other nearby communities in Central Nebraska.
Sunrooms do more than just provide an expansive view of the outside world, though. In fact, sunrooms provide homeowners with a multitude of other benefits, including:
Protection from harmful UV rays – The glass used in the construction of our sunrooms has an SPF of 59 or 85, providing defense against scorching sun rays.
Safeguard against bugs and other nuisances – No more stocking up on citronella candles and bug spray just to enjoy an evening on the patio. A sunroom will allow your family to sit outside while keeping mosquitoes and other unwanted creatures at bay.
Increased curb appeal – Our gorgeous, custom sunroom designs can enhance the exterior look of any home.
Higher home resale value – Sunroom additions are becoming increasingly popular, and with all of the benefits they provide homeowners, they can lead to increases in home values, making them a nice investment.
Our sunrooms are manufactured by TEMO, the most respected name in the industry. With expanded polystyrene thermal roofs and polymer surfaces that won't get dented or scratched, our durable sunroom products are sure to last a lifetime. In fact, they are backed by a transferable lifetime warranty.
For further information about our sunrooms for Wood River homes, please contact us today. We also offer expert installation of many other home improvement products, including house siding, roofing, and replacement window options.