Steel Soffit and Fascia Can Last a Lifetime on Your Lincoln, NE, Home
It can be easy to overlook the humble soffit and fascia. While every home has them, they are a feature that is usually forgotten in the face of bigger features, like roofs or siding. That is, until you notice houses with particularly ugly fascia or soffits, or worse, when your home starts springing leaks or other issues because your soffit and fascia are deteriorating.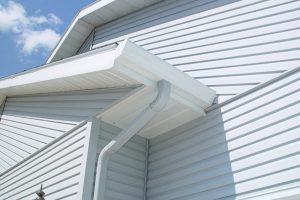 If you want to avoid these issues while still protecting your home with a low-maintenance option, you should consider having steel soffit and fascia installed by ABC Seamless of Nebraska. For over 40 years, we've been fabricating and installing industry-leading home exterior solutions for homeowners in and around Lincoln, NE.
Your Steel Soffit and Fascia Will Fit Right In
Like our other products, we will fabricate and install your steel soffit and fascia at your home when we install it. This lets us accomplish two things:
First, your new steel soffit and fascia will be made to your home's exact dimensions, ensuring a correct, tight fit. This is important so that your soffit and fascia can provide maximum protection.
Second, since the steel we use is formed and pressed into shape by our installers, there are no seams along the length of it. Not only does this make your home look better, it keeps your home better-sealed from rain and snow, mold and mildew, and pests.
Additionally, we back up our steel soffit and fascia with some of the best warranties available to homeowners in Lincoln, NE. Our exteriors won't fade, crack, warp or peel, and they're guaranteed with a lifetime, non-prorated, transferable warranty. This is part of what makes our steel soffit and fascia such a great investment: not only will they last longer than the competition and stay beautiful, you can also pass on their fantastic warranty if you ever sell your home.
For Your Exterior Needs, Turn to ABC Seamless of Nebraska
If you're interested in getting industry-leading protection and style for your home in Lincoln, NE, contact the team at ABC Seamless of Nebraska today.