Steel Soffit and Fascia Lincoln
Protect Your Lincoln, NE, Home With Steel Soffit and Fascia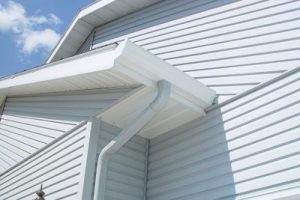 When it comes to protecting your home from the elements, many architectural systems work together to ensure that a structure is sealed against all types of weather. Soffit and fascia form the connective barrier between your roof and siding, providing a protective overhang. Great care should be taken in selecting the best materials possible for this system, which is why ABC Seamless of Nebraska offers Lincoln homeowners steel soffit and fascia to work with our seamless steel siding. Our steel soffit and fascia outperforms vinyl and aluminum products, so not only will your attic be kept free from mold, mildew, and rot, but the protection will last year after year!
Benefits of Steel Soffit and Fascia
With steel soffit and fascia, you don't have to worry about poorly constructed materials failing when you rely on them most. Instead, you can expect:
Unmatched longevity – Our heavy-duty, 28-guage galvanized steel soffit and fascia lasts year after year.
Virtually no maintenance – Due to their rugged construction, our products won't warp, crack, rot, or peel regardless of the weather.
Enhanced curb appeal – Steel soffit and fascia offer a sleek, uniform look for your home without seams or overlaps.
Trust Nebraska's Home Improvement Experts
As the area's premier home improvement company, we know what it takes to get the job done right every time. Soffit and fascia installation, much like siding or roofing installation, requires proper experience and attention to detail. With ABC Seamless of Nebraska, you can always count on a perfect job. We custom-cut your soffit and fascia onsite to specifically fit your home's dimensions, then attached them with screws – not staples – to handle high winds. Plus, we'll back our work with a lifetime product warranty, so you can be certain that your investment is protected.
Contact Us Today
If your home's soffit and fascia need replacing, contact ABC Seamless of Nebraska today to learn more about the steel soffit and fascia products we offer to homeowners in Lincoln, NE.