The Benefits of Steel Siding for Grand Island, NE, Homeowners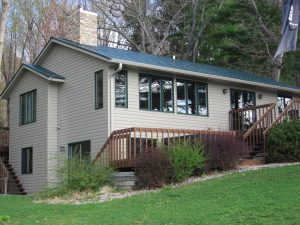 Your Grand Island, Nebraska, home is likely your biggest investment, which means it deserves the best protection available. That's steel siding from ABC Seamless of Nebraska. Your siding plays a big role in your home's protection—not only does it protect the structure of your home from adverse weather, but it also keeps rodents and other pests from gaining access! Unlike exterior siding crafted from other materials, our siding is:
Long Lasting
Crafted from 28-gauge steel, our siding is designed to last decades on your home. It won't expand or contract as easily as vinyl siding, and it's virtually impervious to damage from wind, rain, and rodents.
Aesthetically Pleasing
Your home deserves fantastic curb appeal just as much as protection. Our steel siding comes in a number of different colors, coatings, and styles, allowing you to choose an aesthetic for your home that matches your unique style.
Insulated
If you're like most homeowners, you're concerned about energy efficiency. Our steel siding can help. It's installed with thick, foil-backed, fan fold insulation to help reduce thermal transfer.
Maintenance Free
Unlike siding made of other materials that often requires repair and repainting, our steel siding is maintenance free. It'll hold its color indefinitely, resisting fading, so you won't have to worry about an expansive home painting project anytime soon.
Turn to ABC Seamless of Nebraska
To learn more about the seamless steel siding we offer to homeowners in Grand Island, NE, contact us today! We're happy to answer any questions you may have!