Steel Roofing Installation for Omaha, Kearney, Bellevue, Pottawattamie County & Neighboring Cities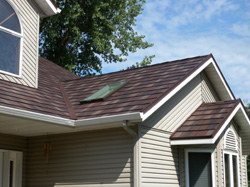 For expert installation of top-quality steel roofing, look no further than ABC Seamless. Our steel roofing is the ideal option for homeowners who don't want to spend thousands of dollars on replacing their wood shake or asphalt shingle roofs every 10 to 20 years and want a custom solution that can last for a lifetime. The durability of our roofing products not only will mean never having to replace your roof again, but that the inside of your home will also be better protected against heavy downpours, airborne debris, and winds as strong as 160 miles per hour.
Here are just a few of the many other features our steel roofing provides:
ENERGY STAR rating – Our steel roof can help improve your home's overall energy efficiency, which means potentially lower heating and cooling bills and lower demands on your expensive HVAC equipment.
Class 4 impact rating – With the best possible rating for residential roofing, our tough product offers the highest level of resistance against hail and wind-driven debris.
Cool Edge coating – Our roofs are designed to reflect heat and light away from your house, which can help the inside of your home feel cooler during those blisteringly hot summer months.
With an A+ rating from the Better Business Bureau and a Top 200 Exterior Contractor rating from Qualified Remodeler, we're the trusted source for steel roofing installation throughout Nebraska and Southwest Iowa.
Contact us today for a free quote on steel roofing systems installation for homeowners in Omaha, Grand Island, Kearney, Council Bluffs, Glenwood, and beyond.