Seamless Steel Roofing Available to Homeowners in Grand Island, NE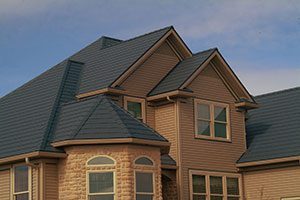 While a roof replacement is no small undertaking, ABC Seamless of Nebraska is proud to install an option that offers superior home protection and acts as a permanent solution: seamless steel roofing. Along with outperforming other roofing materials on the market, your new metal roof will be the last you ever have to buy as long as you remain in your home—proving to be one of the best investments you can make. Choose excellence for your Grand Island home by partnering with us for our premium steel roofing and expert installation.
Steel Roofing Benefits
In addition to unmatched longevity, our steel roofing offers an array of other benefits. These include:
Remarkable durability — Made from heavy-duty, hot-dipped, G-90 galvanized steel, our steel roofing is built to withstand 160 mph winds and carries a Class 4 impact rating to protect against damage from debris even in the worst conditions.
Energy efficiency — With an ENERGY-STAR® certification and Cool-Roof technology that deflects the light and heat of the sun to help keep indoor temperatures comfortable and consistent year-round, this roofing takes the strain off your HVAC system.
An attractive appearance — Along with our fade-resistant color options, our steel roofing mirrors the classic look of asphalt shingles without the tedious upkeep and maintenance requirements.
A seamless nature — Factory-trained technicians measure and cut our steel roofing in a seamless panel, creating a flawless profile that doesn't contain any of the seams that can cause pesky problems down the road or detract from the beauty of your home.
And for your peace of mind, we protect our steel roofing with a non-prorated, transferable, lifetime warranty.
Experience the Seamless Difference
With seamless steel roofing from ABC Seamless of Nebraska, you can feel confident knowing your home is protected for a lifetime. Don't settle for any less than the best for your Grand Island, NE, home—contact us today to learn more and get started.