Steel Roofers Serving Omaha, Wood River, Hastings, Grand Island & Surrounding Nebraska and Southwest Iowa Communities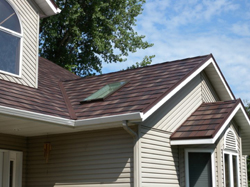 The steel roofers at ABC Seamless can offer you a permanent solution to replacing your old roof. With our steel roof, you won't have to worry about spending thousands of dollars to replace it in the future, making it the last roof you'll ever need to buy. Unlike shingles and tiles, our steel roofs won't rot, fade, crack, or chip, and they resist rusting, peeling, and warping. Our roofs are so durable, that they are even rated to withstand winds as high as 160 MPH – that's the equivalent of an EF-3 tornado! The steel roofers at ABC Seamless are thoroughly trained in roofing homes and will uphold the finest standards of craftsmanship when installing your roof. This ensures that it will help protect you and your family from the brutal elements of Mother Nature and stand the test of time.
You will enjoy many other benefits when the steel roofers at ABC Seamless install a roof. These include:
Cool Edge coating, which reflects more heat energy away from your home, helping to lower your energy bills during the extreme heat of the summer months
Class 4 impact rating, which means our roof offers the highest possible level of protection against hail and wind-driven debris
A wide array of color choices to help your roof beautifully complement your home's exterior
For more information about our roofs, contact us today. Our steel roofers proudly serve Omaha, Papillion, Council Bluffs, and other communities throughout Nebraska and Southwest Iowa. In addition to being a roofing contractor, we also install soffit and fascia, residential windows, gutters, and more.