Steel Roof Installation for Homeowners in Wood River, NE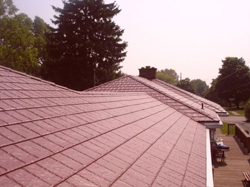 If you would like a steel roof installed on your Wood River, Nebraska, home, then the only name you need to remember is ABC Seamless. Since 1996, we have been installing roofs on homes throughout Central Nebraska and have more experience than virtually any other roof installer in the region. Our steel roofs won't chip or rot like asphalt shingles, crack or split like wood shake, and are guaranteed to last the life of your home.
Our roofing offers a wide range of features:
Class 4 impact rating – Boasting the highest possible impact rating, our roofing is resistant against damage from impacts by hail and wind-driven debris, and will withstand the elements.
Incredible wind resistance – ABC Seamless roofing is rated against winds up to 160 miles per hour, which makes our roofs the ideal solution for homes in Tornado Alley.
ENERGY STAR rating – The Cool Roof lining on our roof helps to reflect away heat, keeping the inside of your home cooler in the summer and helping to lower your home's energy bills.
Wide range of colors and styles – We offer our roofs in a palette of colors and an array of styles to suit your unique aesthetic tastes.
You can be confident that your roof will be installed by highly experienced roofers who are skilled in all facets of roof installation and will make sure that you are completely satisfied with the work that they provide. The exceptional service and products we offer has helped us to earn an A+ rating from the Better Business Bureau as well as a ranking among the top 500 contractors in the United States by Qualified Remodeler.
For more information about our steel roof products for Wood River, NE, homeowners, contact ABC Seamless today.