Steel Roof Options for Omaha, Nebraska, Homeowners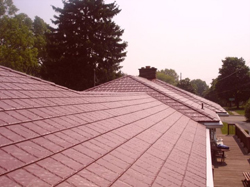 Are you looking for a permanent roofing solution for your Omaha home? If so, a steel roof from ABC Seamless is exactly what you need. Our steel roofing will never degrade like asphalt, rot like wood shake, or crack like slate, and is the last roof that you'll ever need to buy.
ABC Seamless steel roof systems offer Omaha homeowners the following benefits:
Resistance against high winds – Here in Tornado Alley, the benefits of a durable roof simply cannot be overstated. Our roofs are designed to withstand winds up to 160 miles per hour, which is the equivalent of an EF-3 tornado.
ENERGY STAR qualification – Our roofing can improve your home's overall energy efficiency and potentially help lower your home's energy costs and reduce stress on your heating and cooling equipment.
Cool Edge Coating – ABC Seamless roofs reflect heat away from your home, helping to make the inside of your home feel cooler during our oppressively hot Midwest summer months.
Class 4 impact rating – Our roofs have received the highest possible rating against assaults from hail and wind-driven debris.
Our roof installers are highly skilled and boast years of experienced, and they will ensure that your roof is installed the right way, the first time. Since 1989, we have been committed to installing excellent products and providing impeccable service, which have helped us to earn a prestigious A+ rating from the Better Business Bureau and a Top 200 Exterior Contractor ranking from Qualified Remodeler.
For more information about having a steel roof installed on your Omaha, NE, home, contact ABC Seamless today.