Steel Roof Installation in Kearney, NE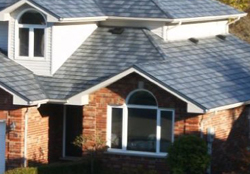 Has the time come to replace the roof on your Kearney, Nebraska, home? If so, a steel roof from ABC Seamless may be the option for you. Why's that? Because ABC Seamless has more experience in the roofing industry than virtually any other roofer in Nebraska, and our steel roofs will last longer than asphalt, won't degrade or flake like wood shake, or crack like slate roofs. Our steel roofs outlast any other product and can be the last roof you'll ever need to buy, saving you thousands of dollars over the life of your home.
There are many reasons to have our steel roof installed on your Kearney home:
Our roofs have the highest possible rating against impact from hail and wind-driven debris and can withstand winds as high as 160 miles per hour – equivalent to an EF-3 tornado.
ABC Seamless roofs feature an advanced coating that reflect heat and sunlight away from your home, keeping the interior more comfortable during the hot summers.
Our roofing is ENERGY STAR® qualified and can help keep the inside of your home at a more stable temperature throughout the year while reducing strain on your expensive heating and cooling equipment.
When you choose ABC Seamless, you can be confident that your roof will only be installed by professionals who boast many years of experience in the roofing industry. Our experts are dedicated to providing the highest quality work and won't consider the job finished until you do. This longstanding commitment to providing the finest service and products has helped us to earn an A+ rating from the Better Business Bureau and a Top 200 Exterior rating from Qualified Remodeler magazine.
To learn more about our steel roof options in Kearney, contact ABC Seamless today.