Benefits of Installing Seamless Siding on Your Kearney, NE, Home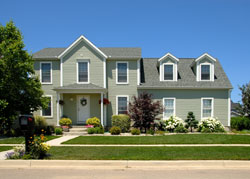 Is the exterior of your Kearney, Nebraska, home covered in vinyl siding, wood shakes, or fiberboard cement? If so, then you may want to consider replacing that exterior cladding with seamless siding from ABC Seamless, a home improvement company that has been proudly serving residents of Kearney and nearby communities since 1996. Our seamless siding products are made from durable 28-gauge steel and custom-cut to the precise length necessary to span the exterior walls of your home, from corner to corner, with nary a seam.
The advantages of our seamless still siding are many. For one, seamless siding has no seams or splices. While the typical home with vinyl siding may have 130 seams, our seamless siding has zero seams, which means there are fewer openings for wind and rain to intrude into the walls of your Kearney home.
Another benefit seamless siding offers is enhanced curb appeal. Think about those 130 seams we mentioned a minute ago – the ones you may have with vinyl cladding. Our seamless siding has none of those ugly seams. Not one. This means our product offers a cleaner, more streamlined look than any of the vinyl siding on the market.
Yet another benefit that homeowners enjoy when they buy our products is that we've never discontinued a color. So, if you decide to install our siding this year and, say, five years from now you want to build an addition on your home, we can provide you with the exterior cladding you need to match the look of your home. Our products come in many colors and styles to suit your personal tastes in aesthetics as well as the architectural character of your home.
Our commitment to installing the finest products and offering customer service that is truly second to none in the industry has helped us to earn an A+ rating from the Better Business Bureau and a Top 500 designation from Qualified Remodeler magazine.
For more information about the siding products we install in Kearney, NE, and to get a free, no-obligation quote, contact ABC Seamless today.