Siding for Homes in Pottawattamie County, IA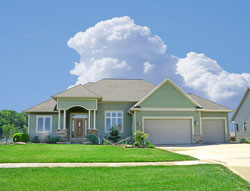 If you need new siding for your home in Pottawattamie County, consider the ultimate protection of seamless steel. At ABC Seamless, we custom cut our siding for each home, instead of using pre-cut pieces. When siding is truly seamless, it is secure against wind, rain, and even pesky rodents and insects.
Steel is far superior in strength and durability to other materials, such as vinyl, wood, or fiber cement. Some benefits of choosing steel include:
It doesn't expand and contract as much – Other materials can swell or shrink in extreme temperatures, causing them to warp, bend, or become brittle.
It's maintenance free – Steel won't need repairs, and it won't need to be repainted like wood does.
It can last indefinitely – Steel is resistant to fire, extreme winds, moisture, rot, and so much more. You can count on steel siding to remain intact, year after year.
It looks beautiful – Many people think steel won't look as attractive as siding made with other materials when, in fact, we offer around 30 color options and a variety of different styles.
At ABC Seamless, we'll give you additional peace of mind by providing you with a limited lifetime warranty that covers fading, rusting, and even hail damage. You can also feel confident that our installers will do exceptional work. We have received an A+ rating from the Better Business Bureau, and Qualified Remodeler magazine has listed us among the top 200 exterior contractors in the country.
For more information about steel siding for your home in Pottawattamie County, IA, contact us today. We also provide a multitude of other home improvement products, including replacement windows, roofing, sunrooms and more.