Seamless Steel Siding Can Provide Superior Benefits for Your Omaha, NE, Home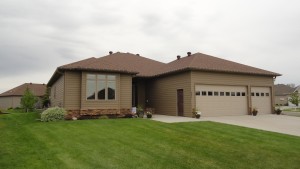 With many different siding types available, it can be difficult to know which one to choose for your Omaha, Nebraska, home. Vinyl is a popular choice, but houses with vinyl cladding often have many unsightly seams. In addition to being an eyesore, these seams can provide a way for wind, rain, and even vermin to enter your home. With seamless steel siding on your house, however, you can avoid these issues.
Seamless steel siding will give the sides of your home an even, uniform look, boosting its curb appeal. With its steel construction, this type of cladding will also last longer than other materials like vinyl or wood. Furthermore, steel cladding expands and contracts less than vinyl when temperatures change, which means that it can be installed more securely on your home.
For over two decades, ABC Seamless of Nebraska has provided seamless steel siding with these benefits and more to homeowners in the Omaha, NE, area. Made with 28-gauge steel, our cladding is extremely durable and won't warp, fade, or crack, making it virtually maintenance free. And, to ensure that your steel cladding is properly fitted to your home, our trained specialists will custom-cut your siding onsite and install your cladding while supervised by a certified production manager. What's more, we back our product and work with a lifetime warranty, so you can have peace of mind that your investment is protected.
If you would like to have our seamless steel siding installed on your Omaha, NE, home, contact ABC Seamless of Nebraska today. Be sure to ask about our great financing options for eligible homeowners.