New Siding for La Vista, NE, Homes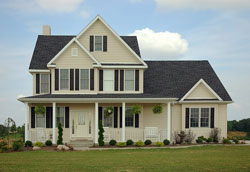 If it's time to replace the siding on your La Vista, NE, home, then consider seamless steel from ABC Seamless. Maybe you are frustrated by old siding that is constantly in need of repair or maintenance, or perhaps you just want to improve the visual appeal of your home. Whatever your reason may be, ABC Seamless can meet your home improvement needs.
When you outfit your home in our seamless steel product, you will see it is superior to siding made of other materials for several reasons:
It's seamless – Unlike other contractors who may claim to have seamless siding, we actually bring our steel to your home and cut it onsite to ensure it fits your whole house seamlessly. This not only will provide your home with better protection against harsh weather, but it will also keep out rodents and other pests.
It's durable – Steel can last indefinitely, whereas other materials can crack, warp, rot, or become brittle over time.
It's maintenance free – Since steel won't wear down like other materials, this means no repairs and, therefore, less work for you.
It's attractive – You can choose from nearly 30 different color options, and we also have several different styles available, so you're sure to find a solution that complements your individual taste.
In addition to these benefits, updating your siding will most likely increase your home's curb appeal, which means a higher resale value if you decide to sell your house. Although steel may not be the least expensive option available, when you consider these long-term benefits, it becomes apparent that your new house siding is a real investment yielding great value over time.
For more information about our seamless steel siding for homeowners in La Vista, Nebraska, please contact us today. Don't hesitate to ask us about our other home improvement products, including replacement windows, roofing, and custom-designed sunrooms.