Enjoy the Finest Siding Installation Services Available in Lincoln, NE, with ABC Seamless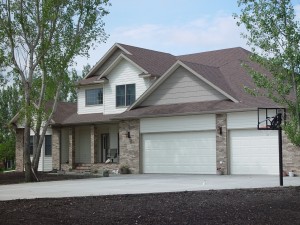 The siding installation pros at ABC Seamless of Nebraska will make the exterior of your home in Lincoln look brand new with beautiful, custom-made steel siding. Crafted from durable 18-guage steel that is coated with a layer of PVC, our siding will provide a durable new exterior for your home that will last a lifetime. With more than 30 stunning colors to choose from, you'll get to select the perfect colors for your siding, as well as for your trim, fascia, and soffit. Throughout the siding installation process, our expert team will utilize industry-recognized methods to secure the panels to your home so that they will provide a beautiful exterior that will last for years and years.
With ABC Seamless, you'll enjoy the finest siding available in Lincoln, NE. Benefits include:
Truly seamless siding – While other siding installation companies call their siding "seamless" simply because it comes in long lengths, we'll install new siding that will run the entire length of your home, eliminating the need for even a single unsightly seam.
Phenomenal protection – Compared to vinyl siding, our steel siding won't expand and contract nearly as much with temperature changes, minimizing the gaps that would allow moisture to infiltrate your home.
Lifetime warranties – You'll enjoy tremendous peace of mind with lifetime warranties covering both your new siding and our labor.
For a free in-home consultation about our siding installation services, contact ABC Seamless today. We look forward to providing you with the beautiful home exterior you've always wanted, like we have for homeowners throughout Lincoln, NE, since our founding in 1989.