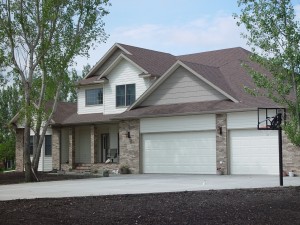 The Siding Installers of Choice in Lincoln, NE
When it comes to house siding, the material  selection is only half the battle. Quality siding installation requires precision, professionalism, and expertise. After all, even the best siding in the industry won't perform as it should if it isn't installed properly—but that won't be a worry when you choose ABC Seamless of Nebraska as your siding installers. As the siding contractor of choice in Lincoln, we can equip your home with new seamless steel siding that is all of the following and more.
Durable
While traditional house siding materials will begin to rot, warp, fade, crack, or show other signs of damage before you know it, the metal house siding our installers use is engineered from 28-guage steel for superior performance. Seamless steel siding never needs to be repainted, sealed, or repaired and can last indefinitely.
Energy Efficient
Our seamless steel siding is built with insulative features that work to reduce air infiltration and help keep the temperatures within your home comfortable and consistent. The lack of seams between panels helps keep out driving winds, rain, and snow. This means that your HVAC system won't have to work as hard—and your wallet might not have to work so hard either when it comes time to pay your monthly energy bill.
Solidly Secured
Residents of Lincoln are no strangers to strong winds and the dramatic seasonal weather changes of our region. When you turn to us as your siding installers, you can trust that your exterior siding won't blow off or buckle even when the weather takes a turn for the worse. That's because we secure our seamless siding with screws, ensuring long-lasting results that can handle any challenge Mother Nature throws at it.
Customizable Appearance
Our siding comes in many different colors and styles to choose from so that you can get a siding installation that perfectly matches the look you've been hoping for. Our styles include horizontal, board and batten, reverse board and batten, log, colonial, and colonial Luxemburg. We also have more than two dozen colors to choose from including sage, charcoal gray, sadona, mahogany, sapphire, and sandstone. Having new siding installed is a great way to boost your home's curb appeal and give it a clean, uniform appearance you'll love.
Low Maintenance
Some siding materials like wood might look good when they're first installed, but they need a lot of maintenance to keep them that way. Harsh weather and pests can cause a lot of damage, which means the homeowner must constantly repair, scrape, and repaint their homes. Steel siding, on the other hand, resists pests, fading, peeling, cracking, and warping. You'll never have to worry about repairing, scraping, sealing, or painting your house after a steel siding installation.
Warranty Protected
While some siding installers just say that their siding is built to last, we truly stand behind our products. In fact, we back our steel siding with a lifetime warranty to give you complete confidence in your investment.
Contact Us Today
If it's time for new siding at your home, go with the siding installers you can trust at ABC Seamless of Nebraska. Since 1972, we've proudly provided homeowners in Lincoln and throughout the state with top-notch siding replacements and additional services. Our installers are trained by certified production managers to ensure dependable, long lasting installations, and an A+ rating from the Better Business Bureau stands as proof of our commitment to our customers. Contact us today to learn more about our products, installations, and financing options.