Seamless Siding for Hastings, NE, Homes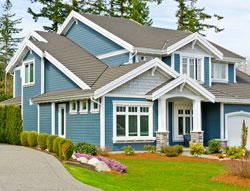 If you need new siding for your Hastings, Nebraska, home, then look no further than the experts at ABC Seamless. For more than 15 years, we have been proud to provide our Central Nebraska customers with seamless siding made with 28-gauge steel, which is superior to vinyl and other materials because of its durability. Unlike vinyl, which can warp, bend, or crack over time, steel can last indefinitely.
In addition to durability, our steel house siding can provide your Hastings home with many other benefits as well. You can expect our product to be:
Seamless – What makes us different from many other contractors is that we bring the steel to your location and custom cut it to fit your whole house. Seamless siding will protect your home against harsh weather conditions as well as rodents and other pests.
Maintenance free – Since our siding won't become brittle or degrade over time, you won't need to worry about making repairs or repainting it.
Aesthetically pleasing – Since we offer almost 30 colors and a variety of different styles to choose from, you're sure to find a beautiful selection for your home when you work with ABC Seamless. Improving your home's curb appeal can even lead to a higher resale value in the future.
So, if you're ready to invest in your home with siding that will look great and last a lifetime, then turn to ABC Seamless. You'll not only be happy with our product, but with our service as well. We stand behind our work with a transferable lifetime warranty, and our team will take the time to ensure that you are completely satisfied with their work.
For more information about our seamless siding for Hastings, NE, homeowners, please contact us today. In addition to siding, we also specialize in roofing, windows, and gutter protections.