Siding for Homes in Glenwood, Iowa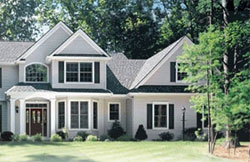 When homeowners in Glenwood, IA, want to update their homes' siding, they turn to ABC Seamless. That's because we not only have decades of experience, but we also have the best quality product. What makes our siding unique is not just that it's made of 28-gauge steel, but that it's truly seamless. Unlike most other contractors, we bring our steel to your home and cut it on site to ensure that you get an exact, custom fit. Seamless siding provides ideal protection because it's secure against wind, rain, and snow as well as insects and other vermin that can invade through the cracks of ordinary siding.
With siding from ABC Seamless, you'll also benefit from:
Unrivaled durability – Unlike vinyl, fiber cement, or other materials, steel can last indefinitely.
Low maintenance – Steel is not going to warp, bend, crack, or become brittle over time because it won't expand or contract in extreme weather conditions as much as other materials, so you won't need to worry about making repairs.
Aesthetic options – You can choose from a plethora of styles and colors, so you're sure to find a beautiful option for your home that suits your personal taste.
A lifetime warranty – We proudly stand behind our work with a transferable limited warranty
When you invest in a home improvement project like installing home siding, it's important you find a contractor you can trust. Since 1989, ABC Seamless has provided residents of southwest Iowa with quality products and unbeatable customer service. We are proud to have earned an A+ rating from the Better Business Bureau and to be recognized among the top 200 exterior contractors in the United States by Qualified Remodeler magazine.
To learn more about our seamless siding for Glenwood homes, or to hear about any of our other home improvement products, including window replacements, roofing, and sunrooms, please contact us today.