Among Siding Contractors in Papillion, NE, ABC Seamless Reigns Supreme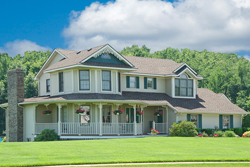 When you are looking for siding contractors in Papillion, NE, there is just one name you need to remember, and it's as easy as ABC – ABC Seamless, that is. Since 1989, ABC Seamless has been the siding contractor of choice for Nebraskans who need high-quality siding that looks great and will last for the long haul. While there are many siding products on the market, ours stands alone as it is made with durable, 28-gauge steel and is completely seamless.
While many siding contractors in the Papillion area and elsewhere in Nebraska will claim that their siding is seamless, what they are actually offering is precut siding that measures between 12 feet and 24 feet in length. Our siding, however, is custom manufactured on-site and then each piece is individually cut to the precise length necessary to span from corner to corner on the exterior walls of your home, which means no splices and no seams – no kidding.
There are many other reasons to choose ABC Seamless when you want to have siding installed on your home:
It is available in a wide selection of colors and styles to complement the appearance of your home
It will never crack, warp, or peel
It won't expand or contract with temperature changes
You will never need to paint, stain, or seal your siding
It comes with a lifetime warranty that covers fading, peeling, and even hail damage
For more information about why we are among the premier siding contractors in Papillion, NE, and to get a free, no-obligation estimate, contact ABC Seamless today.