Most Siding Contractors in Council Bluffs, IA, Can't Come Close to Offering the Service and Value ABC Seamless Does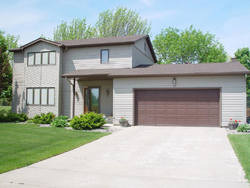 Among the many siding contractors that serve Council Bluffs, Iowa, and the surrounding communities, few can even come close to providing the beautiful, durable siding that ABC Seamless does. Since our founding in 1989, ABC Seamless has built a legacy as the premier siding contractor in Southwest Iowa, and for good reason, too. We are the only company that offers a custom-made, seamless siding product that is made from 28-gauge galvanized steel, which means we offer the strongest, most attractive siding product on the market today.
While many siding companies will claim that their products – usually precut vinyl – are superior, consider this: what's stronger – plastic or steel? How can a pre-cut piece of siding measuring at 12' compare in looks to a piece of siding that is cut to precisely the length it needs to be for the unique dimensions of your home?
Here are just some of the many benefits that we offer homeowners in Council Bluffs, IA:
You will get to choose from a wide range of colors and styles, which will ensure that your siding will beautifully complement the unique look of your home as well as your aesthetic tastes.
Our siding will resist rotting, fading, cracking, and peeling, and will retain its new look for many years to come.
Except for an occasional rinse down with a standard garden hose, our siding will never require any maintenance, and will never need to be sanded, sealed, stained, or painted.
We stand behind all of our siding with a lifetime warranty that includes coverage against rusting, fading, and even damage from hail.
If you would like more information about how we excel in the quality of both our products and service over other siding contractors in Council Bluffs, Iowa, contact ABC Seamless. We will gladly answer any questions you may have and provide you with a free, no-obligation quote.