Siding Contractor Serving La Vista, NE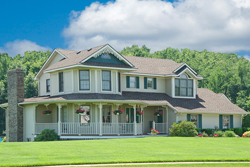 Are you looking for a siding contractor in La Vista, Nebraska, that has many years of experience and will ensure that you are completely satisfied with the work they offer? If so, then turn to the professionals at ABC Seamless, a siding company that has been serving the community since 1989. We specialize in installing seamless siding that will enhance the beauty and value of your home and protect it from drafts and heat loss through your exterior walls. While many siding installers will claim that their siding is seamless, what they actually install are pieces of siding that are 12 to 24 feet long – that's not really seamless! Our siding is seamless, as we custom cut your siding to the lengths necessary to span the exterior walls of your home without any splices, resulting in a crisp, beautiful appearance that no other siding contractor can provide.
There are many reasons to choose our siding, including:
Strength – Our siding is made with 28-gauge steel, which makes it the strongest available in the industry today.
Aesthetic options – We offer a wide range of colors and finishes to give your home just the right look.
Low-maintenance beauty – ABC Seamless siding will never crack, chip, or peel, and won't need to be painted, stained, or sealed; just occasionally wash it down with a garden hose.
Unbeatable warranty – We will back your siding for the life of your home, and guarantee it will never rust, warp, or fade.
By choosing ABC Seamless, you can be confident that your siding will only be installed by highly trained professionals who have many years of experience in the industry and will make sure the job is done right, period. This outstanding commitment to quality has helped us earn such accolades as the coveted A+ rating from the Better Business Bureau and a Top 500 ranking from Qualified Remodeler.
If you would like more information about why we are the top siding contractor in La Vista, contact us today.