Siding Contractor Serving Residents of Council Bluffs, IA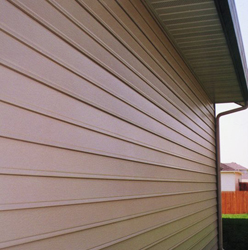 ABC Seamless is the siding contractor that residents of Council Bluffs have trusted since 1989. As the premier siding contractor in southeast Iowa, we are proud to offer customized siding that will cover your home from corner to corner without any seams – period. While many siding contractors will claim their siding is seamless, what they actually offer are pieces of vinyl that measure up to 24 feet long. Our siding, however, is made of steel that is cut on site to the necessary length to cover your home without any seams. That means our siding isn't merely more beautiful than the competition's, but it is also much stronger than any other siding on the market. Plus, our steel siding won't warp, crack, sag, chip, or fade like vinyl or other siding materials on the market today.
Our steel siding offers many additional benefits, including:
Availability in a wide range of 27 handsome colors and 15 attractive styles to help improve the curb appeal of your home
Maintenance-free protection of your home, which means no painting, staining, or sealing – ever
A lifetime warranty that covers peeling, fading, or rusting
Another reason to hire ABC Seamless for the installation of steel siding on your home is that our professionals are among the most highly trained in the industry. Boasting many years of experience, they will do the job the right way the first time, and won't consider their work complete until you are totally satisfied. Our unflagging commitment to providing the best customer service in the industry has helped us to earn a Top 200 Exterior Contractor ranking from Qualified Remodeler as well as a stellar A+ rating from the Better Business Bureau.
For more information on why we are the siding contractor of choice for Council Bluffs, Iowa, residents, contact ABC Seamless today.