Seamless Steel Siding Grand Island
Gorgeous Seamless Steel Siding for Grand Island, NE, Homeowners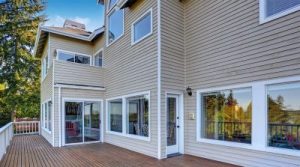 Is your home's siding suffering from the forces of Mother Nature? Dramatic seasonal changes, like those common in Nebraska, can wreak havoc on your home's siding, causing it to wear down sooner than many homeowners anticipate. Traditional siding materials like wood and vinyl, while cheap, simply aren't ideal for handling all weather types. These materials will buckle, crack, fade, and warp over time, detracting form your home's appearance and leading to poor energy efficiency and infiltration from pests. If you've noticed that your home in Grand Island, NE, requires siding replacement, then you need seamless steel siding from ABC Seamless of Nebraska.
Benefits of Seamless Steel Siding
Our seamless steel siding is unbeatable when it comes to improving your home's efficiency and longevity. With our siding, you'll enjoy many benefits such as:
Long-lasting durability – Unlike other siding materials, our steel siding won't fade, rot, or crack. We use 28-guage steel that will never need repainting, sealing, or repair!
Improved energy efficiency – Thanks to the elimination of overlapping seams which provide opportunities for air leakage, our siding is far better at maintaining the comfort of your home's interior.
Enhanced beauty – The overlapping seams required with vinyl siding are unsightly. So is cracked and rotted wood. But seamless steel siding, cut to fit the exact dimensions of your home and available in a wide array of colors, will have you enjoying your home's curb appeal for many years to come!
Contact ABC Seamless of Nebraska Today
If you're ready to say goodbye to deteriorated and unsightly siding on your Grand Island, NE, home, give us a call. Our professionals are ready to help you transform your home with stunning seamless steel siding that will stand the test of time. Gone will be the days of tedious maintenance – instead you can enjoy the benefits of premium quality materials and expert siding installation service that our customers have come to expect. We've been wowing Nebraska homeowners since 1972 and back our work with a lifetime warranty as our promise to you that your home will be protected.