Seamless Steel Roofing Hasting, NE
Upgrade Your Hasting, NE, Home with Seamless Steel Roofing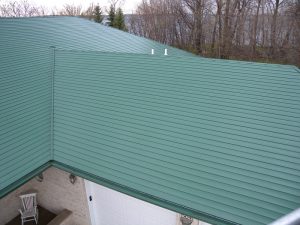 When it comes to replacing your roof, you want to ensure that such a substantial investment will keep you safe and protected for years to come without having to worry about maintenance or damage. Unfortunately, common asphalt shingle roofs, while affordable, are not the ideal candidate to suit this role. Instead, seamless steel roofing outshines traditional shingles in every single way. That's why, if you're considering a roofing replacement, you should opt for metal roofing from Hasting, Nebraska's leading roofing contractor—ABC Seamless of Nebraska.
Benefits of Our Steel Roofs
If you're looking to maximize the protection, energy efficiency, and curb appeal of your home, there truly isn't a better choice than seamless steel roofing. This is because steel is unphased by environmental factors that other roofing types, like asphalt shingles, are susceptible to. While traditional roofs will buckle, crack, erode, and fall off over time, seamless steel roofing is all but impervious to exposure from sun, precipitation, and winter weather.
Our seamless steel roofs are the best available and offer many benefits, including:
Unmatched durability – Our roofing is made of 28-gauge galvanized steel, which is cut on-site to fit the exact dimensions of your home and armor it against even the harshest weather.
Improved energy efficiency – Unlike common shingles, our steel roofing features cool-edge coating that reflects the sun's heat away from your home, meaning your HVAC system won't have to work as hard to keep your home comfortable.
Elegant appearance – Sleek, stylish steel roofing is truly a sight to behold, and thanks to our wide variety of styles and color options, you can find the perfect look for your home.
Excellence at Every Step of the Way
When you choose ABC Seamless of Nebraska for your roof replacement, you can trust that the installation will be performed flawlessly by our knowledgeable technicians so your new roof that will last for decades to come. We're the seamless steel roofing experts and are so confident in our expertise that we back all our work with a comprehensive warranty to put your mind at ease.
Contact us today to learn more about our services in Hasting, NE, and surrounding areas.