One of the Most Trusted Roofing Contractors Serving Wood River, NE, and Surrounding Communities – ABC Seamless of Nebraska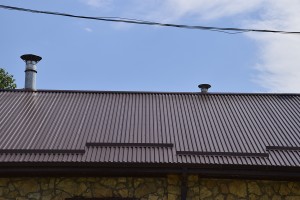 With many roofing contractors serving the Wood River, Nebraska, area, why should you choose ABC Seamless of Nebraska? You should choose us because we offer and install a one-of-a-kind steel roofing system that you'll find nowhere else. Since its introduction, the ABC Seamless steel roof has become an industry standard among metal roofing products and is an ideal roofing solution for any home.
The ABC Seamless roof stands out from the products of other roofing contractors operating in the Wood River, NE, area because of its exceptional features. These features include:
Different color options – Our steel roof is available in many stylish colors, so you can choose one that boosts the curb appeal of your home.
Cool edge coating – This technology allows our roofs to reflect the sun's heat, which will make it easier for your HVAC unit to keep your home at a comfortable internal temperature. With less strain on your heating and cooling system, you may also be able to enjoy lower utility costs.
Durable steel material – Made from 28-guage steel, our roofs surpass many of the products of other roofing contractors in terms of impact resistance and provide the best possible defense against hailstone damage. Plus, our roofs have a wind rating of 160 mph and can withstand extreme weather events like a Category 3 tornado.
ABC Seamless of Nebraska also differentiates itself from other roofing contractors because we provide nothing less than outstanding customer service, and our team will be available to help you throughout your project. Thanks to our unmatched steel roofing system and our world-class customer service, ABC Seamless has been named among the Top 500 home remodeling firms in the nation by the leading industry publication Qualified Remodeler.
To learn more about why we rank among the best roofing contractors operating in and around Wood River, NE, contact ABC Seamless of Nebraska today.