The Roofing Contractor of Choice Among Residents in and Around Omaha, NE – ABC Seamless of Nebraska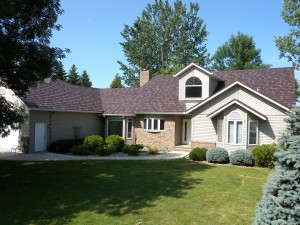 As a roofing contractor that offers steel roofs, ABC Seamless of Nebraska can provide your home in the Omaha, Nebraska, area with a permanent roofing solution that will last for years to come. Built with 28-guage steel, our durable roofing systems require little, if any, maintenance. Thanks to the longevity of our steel roofs and the lifetime warranties we offer, ABC Seamless of Nebraska is likely the last roofing contractor you'll ever need to hire.
An ABC Seamless roofing system has additional features that can provide great benefits for your home in the Omaha, NE, area. These include:
A Class 4 impact rating – Possessing the highest impact rating, our durable steel roofs provide the best protection possible against airborne debris and hail.
Cool-edge coating – This coating will reflect the sun's heat and light away from your home. When there's reduced heat energy entering your house, your HVAC system won't have to work as hard to maintain a comfortable internal temperature, which can help lower your utility costs.
High wind rating – The ability of our steel roofing systems to withstand 160 mph wind speeds will help ensure that it remains on your home during storms and other extreme weather events.
ABC Seamless of Nebraska is also a roofing contractor that prides itself on providing expert installation. All of our installers are professionally trained, have years of experience, and will work hard to properly install your roof. Thanks to our dedication to excellence as a roofing contractor and home remodeler, ABC Seamless has been ranked by Qualified Remodeler as a one of the country's Top 500 remodeling firms.
To hire a roofing contractor that provides an unmatched roofing system and equally outstanding service, contact ABC Seamless of Nebraska today. Also, be sure to ask about our financing options available for eligible homeowners in Omaha, NE, and surrounding communities.