Roof Replacement That Can Last a Lifetime on Lincoln, NE, Homes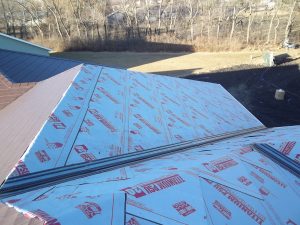 Anyone who has had to replace an asphalt shingle roof has probably wondered if there was a roofing option that was more dependable. With a lifespan of about 15 years, asphalt roofing is far from the longest-lasting roofing material. Homeowners in Lincoln, NE, that want a roofing solution that will last a lifetime should turn to ABC Seamless of Nebraska. Our metal roofing specialists can give you a roofing solution that will last for decades to come.
At ABC Seamless of Nebraska, we specialize in steel home exterior products, like gutters, siding, and roofing. Our durable steel roofing is built for durability and is even backed by an industry-leading lifetime, non-prorated, and transferable warranty so you can be sure that you're getting a roof replacement that will stand the test of time.
Why Lincoln Homeowners Choose Our Roofs
Besides their incredible longevity, our steel roofs offer many benefits to homeowners. One of the most important features of our roofing materials is that they are well-suited to protect your home from the forces of nature. They are virtually fireproof and extremely resistant to high winds. They also feature a Class 4 impact rating, the highest available for residential structures. Our roofs are also impervious to mold, mildew, insects, and other pests.
Many homeowners who choose a roof replacement from ABC Seamless of Nebraska will also see an improvement in their home's energy efficiency. This is because the roofing we install features Cool Roof technology, which helps improve its ability to reflect solar heat before it enters your home. This feature is part of the reason that our roofs are ENERGY STAR®-certified.
The Last Roof Replacement Your Lincoln Home Will Ever Need
If you're ready to ditch asphalt shingles forever and choose a roof replacement that you can count on for life, turn to ABC Seamless of Nebraska. To find out more or to schedule a consultation at your home, contact us today.