Professional Roof Replacement Services in Hastings, NE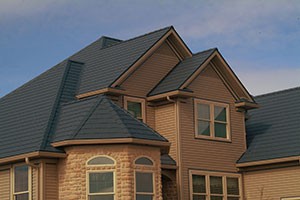 It may be time to think about roof replacement services if your current roof is leaking, warped, or otherwise damaged. For a lasting solution to your roofing problems in Hastings, Nebraska, there's no better company to turn to than ABC Seamless of Nebraska. We manufacture and install durable steel roofs that offer superior protection for homes in the Midwest.
When you choose ABC Seamless to complete a roof replacement for your home in Hastings, NE, you'll receive a roofing system that provides superior protection against the elements, including:
Heat – Cool Edge coating on the roof reflects heat and light away from the house to help keep it cool on hot summer days.
Rain – Our steel roofs provide reliable protection from leaks, helping to prevent water damage to the home.
Wind – Our roofs can withstand wind speeds of up to 160 miles per hour.
Hail – A Class 4 impact rating means our roofs offer superior resistance to hail and wind-driven debris.
Fire – Steel roofs are noncombustible, so you won't have to worry about stray fireworks or embers from a fire pit.
In addition to these benefits, a steel roof from ABC Seamless will likely be the last roof you'll ever need to buy. Our roofs last two to three times longer than the typical asphalt roof. Plus, our roof replacement products and services are covered by a lifetime warranty so that your investment will be protected.
For more information on our roof replacement services in Hastings, NE, contact ABC Seamless of Nebraska today.