Popular Replacement Windows Styles for Homeowners in Omaha, NE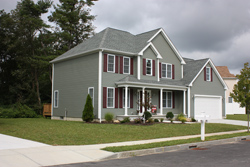 If you have been shopping around for replacement windows for your Omaha, Nebraska, home, you may be overwhelmed by the number of window styles that are available. There are literally dozens of standard window styles available, and if you throw custom window designs into the mix, the possibilities are virtually endless. Often, choosing the right style of window for your home comes down to determining what types of windows would best complement the architectural styling of your residence. Modern homes may call for geometric window designs with clean lines and sweeping window panes. Classical homes may demand more traditional replacement windows, such as bay and bow windows, double hung windows, and windows with grids, muntins, or simulated divided lites.
No matter what styles of window you ultimately choose for your home, you may be more comfortable having a professional window design consultant help guide you to making the right decision for your home. A designer can determine what styles would best complement the architectural character of your home and help you choose small customizations that can make a huge difference in how your home looks.
When you hire ABC Seamless to oversee the installation of replacement windows on your Omaha home, you will receive the assistance of an expert window designer who will help you select the perfect windows for your home. Once you and our professional design consultant have determined what type of windows will best suit your needs, our technicians will install your new, beautiful windows.
For more information about replacement windows for your Omaha, NE, home, contact ABC Seamless today.