The Hidden Benefits that Replacement Windows Can Offer in Your Omaha, NE, Home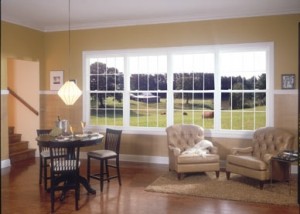 Replacement windows are a great option for homeowners in Omaha, Nebraska, to consider. Even if your current windows aren't causing noticeable problems yet, having new windows installed in your house offers many benefits, including:
Energy savings – Double- and triple-pane options filled with inert argon gas and featuring low-E glass can greatly improve the insulation of your home. Plus, the improved energy efficiency they provide can lead to savings in your energy bill.
Noise reduction – The same insulating capabilities that help improve energy efficiency also help prevent outdoor noise pollution from penetrating the peaceful interior of your home in Omaha, Nebraska.
Aesthetics – Windows have a large impact on the aesthetics of your home as they contribute to the appearance of both the exterior and interior. Replacement windows today are available in a range of colors and styles so that just about any taste can be accommodated.
UV protection – UV-protected glass not only helps protect your skin, but also keeps your furniture and carpets from fading so that they last longer.
Low maintenance – The durable materials that are used in replacement windows, such as polymer and vinyl, are less likely to chip, crack, warp, or fade so that you don't have to spend extra time on repairs or maintenance for your windows to look beautiful.
Security – There are many advanced locking systems available for new windows, which offer a high level of security for more peace of mind.
If you're thinking about having replacement windows installed in you Omaha, NE, home, ABC Seamless of Nebraska is the company to turn to. For more than 35 years, ABC Seamless has been providing homeowners with exceptional replacement windows and installation services. To learn more or to schedule a free consultation today, contact ABC Seamless of Nebraska.