Energy Efficient Replacement Window Upgrades for Your Omaha, NE, Home Can Save Money on Your Energy Bills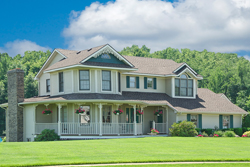 There are many reasons to choose energy efficient replacement window installation for your Omaha, Nebraska, home. From more stable temperatures inside your home year-round to potential savings on your heating and cooling bills, the benefits you stand to enjoy after replacing your old windows are numerous. While some homeowners may think that all newer windows are energy efficient, the truth is only certain types of windows can provide exceptional energy savings. The most energy efficient replacement window will have at least two panes of insulated glass, and any window that is more than a few years old does not offer the latest energy-saving technologies presently on the market.
At ABC Seamless, we are proud to install specially engineered, high-performance windows from a leading manufacturer in the energy efficient replacement window industry. These windows are made with polymer composite frames that are not only more energy efficient than materials like wood and aluminum, but are also 400 percent stronger than conventional vinyl. Additionally, these windows resist expansion and contraction, and will not fade, rot, warp, crack, or peel, ensuring that your windows will help prevent unwanted heat transfer and look great on your Omaha home for many decades to come.
We only hire the most skilled replacement window installers, who will ensure that your windows fit properly and provide you with the most energy efficient benefits for your money. For added peace of mind, we also provide a 50-year warranty with our replacement windows. What else would you expect from a company that has earned an A+ rating from the Better Business Bureau and a Top 500 designation from Qualified Remodeler magazine?
For more information about our replacement window installation services in Omaha, NE, contact ABC Seamless today.